Select the desired shipping method
Shipping Company

Estimated Delivery Time

Shipping Cost
*Please note: the shipping costs are only estimates; the actual shipping price will be shown on the order page.
Highlights
Hasselblad Camera
The L1D-20c possesses Hasselblad's unique Hasselblad Natural Colour Solution (HNCS) technology, 5 helping users to capture gorgeous 20-megapixel aerial shots in stunning color detail.
1" CMOS Sensor
The brand new 1-inch CMOS sensor has an active sensing area four times more effective than the original Mavic Pro. The large sensor also means better performance in low-light environments with a more extensive ISO range, max ISO lifted from 3200 to 12800.
Adjustable Aperture
The f/2.8-f/11 adjustable aperture delivers outstanding image quality both in high and low-light environments. When shooting in low light, set the aperture to f/2.8 to allow more light in and to capture bright and clear photos. When shooting in well-lit environments, set the aperture to f/11 to lower the shutter speed and make your videos smoother.
10-bit Dlog-M Color Profile
The Mavic 2 Pro supports a 10-bit Dlog-M color profile that yields higher dynamic range for more flexibility in the grading room. The system records over 1 billion colors (compared to the 16 million colors from traditional 8-bit color coding technologies) and retains more in-depth details in both highlights and shadows. Now you can capture the subtlest gradations at sunset or sunrise, leaving greater space for post-production.
10-bit HDR Video
With 4K 10-bit HDR support, the Mavic 2 Pro can be plugged into a 4K TV with HLG and will immediately play back footage with the right color tones. The brighter highlights and increased contrast are what make HDR video so appealing.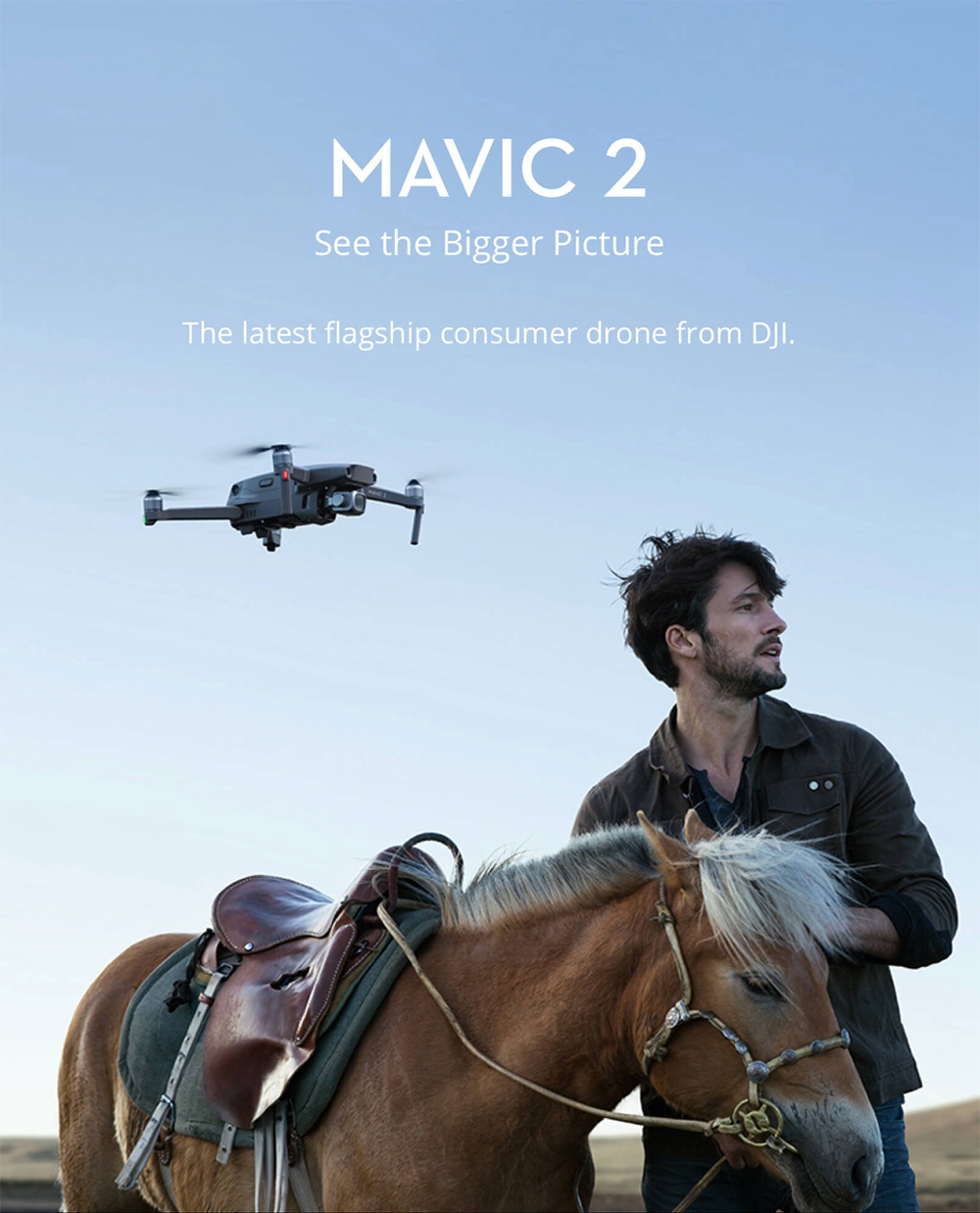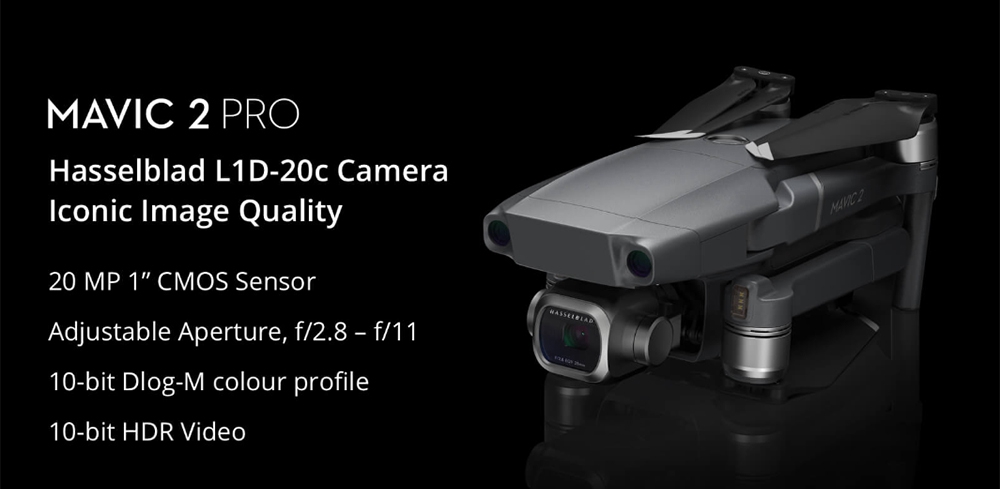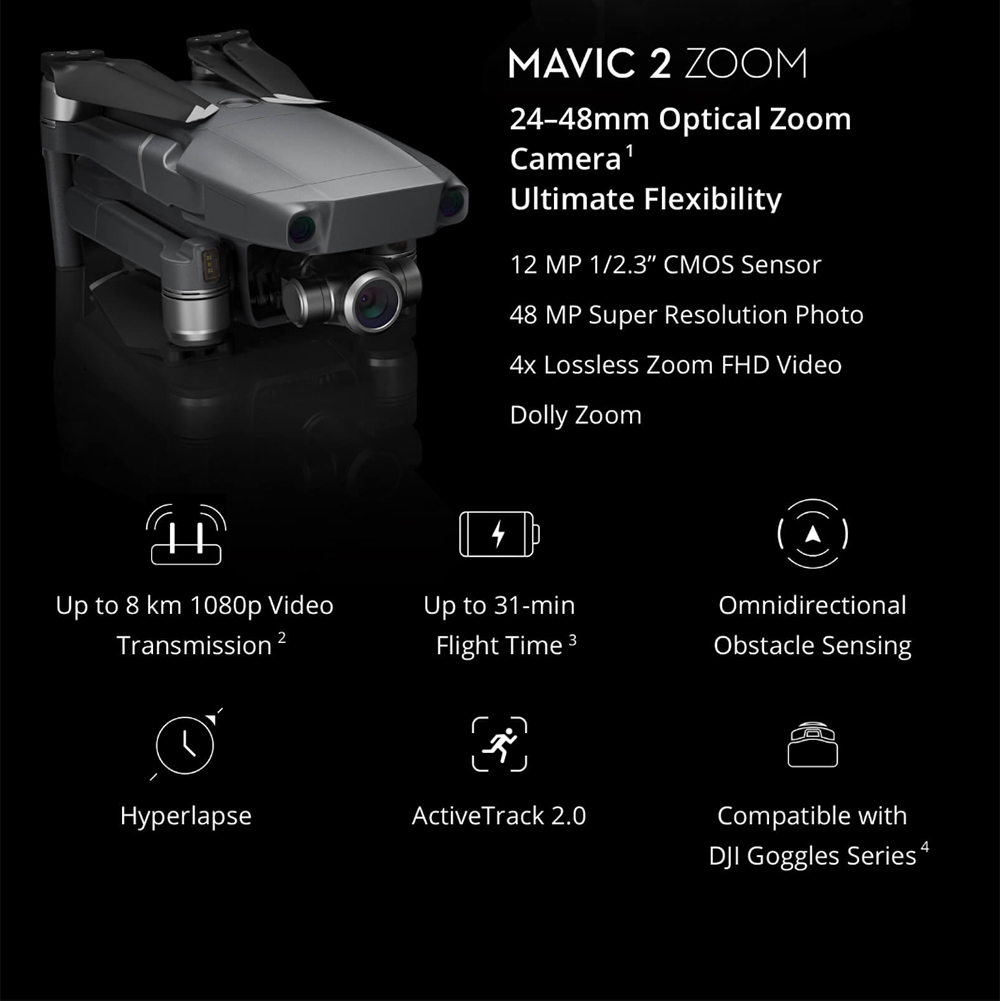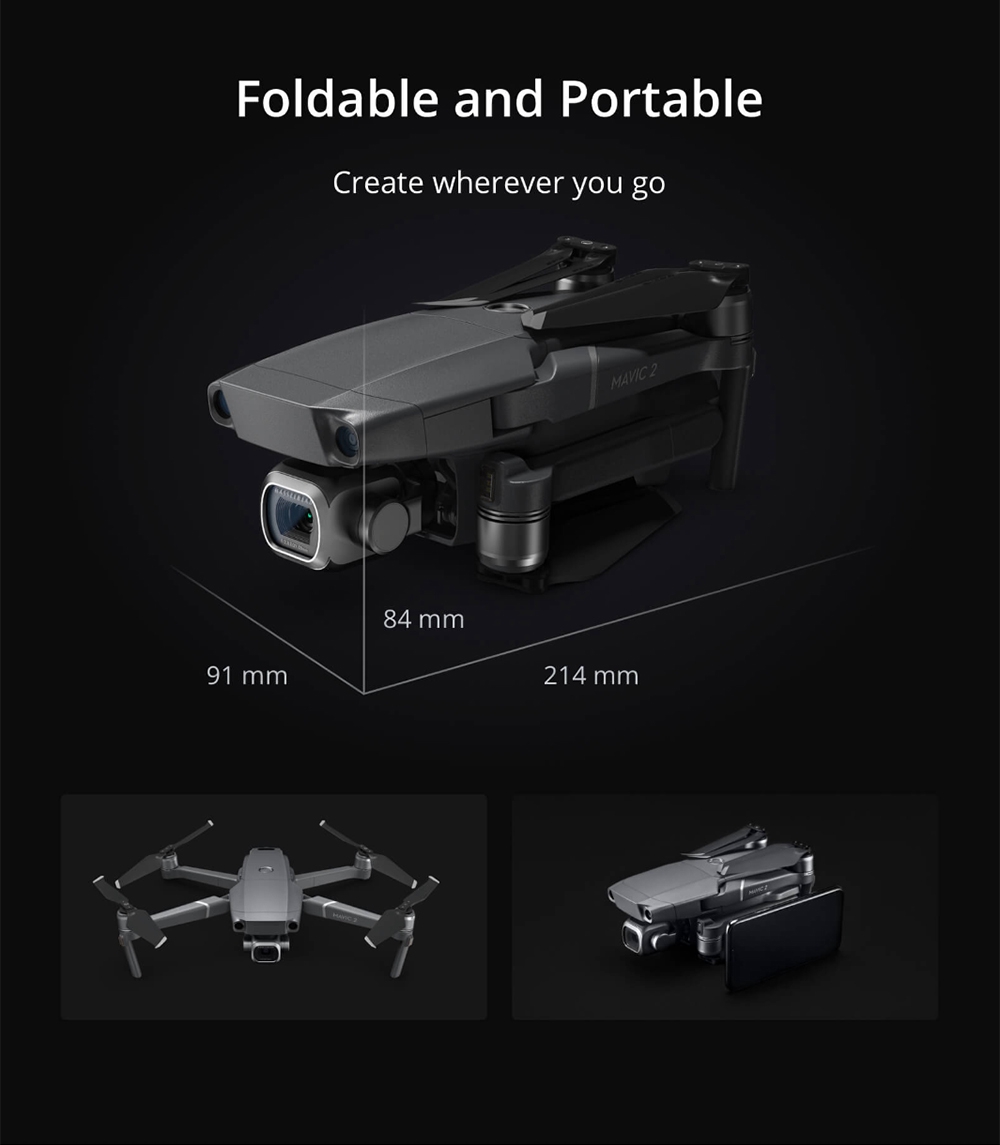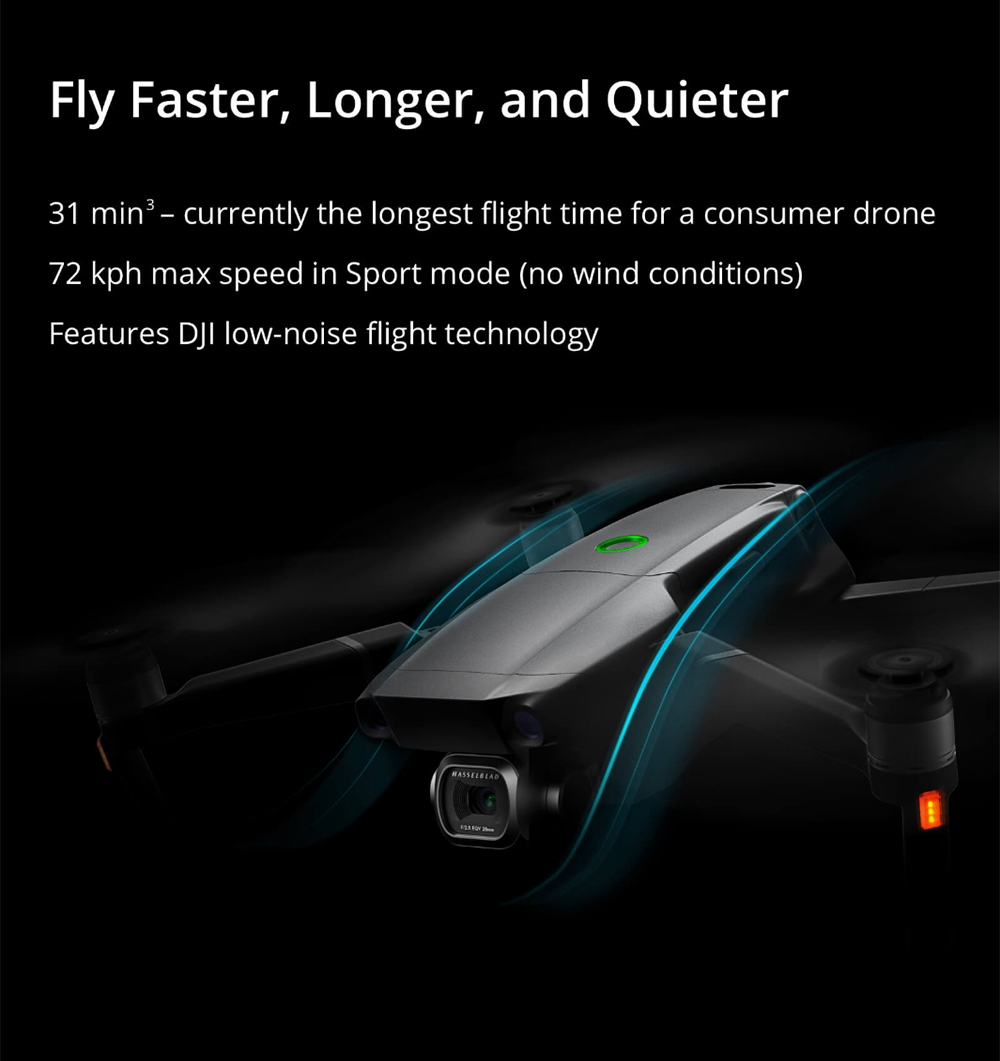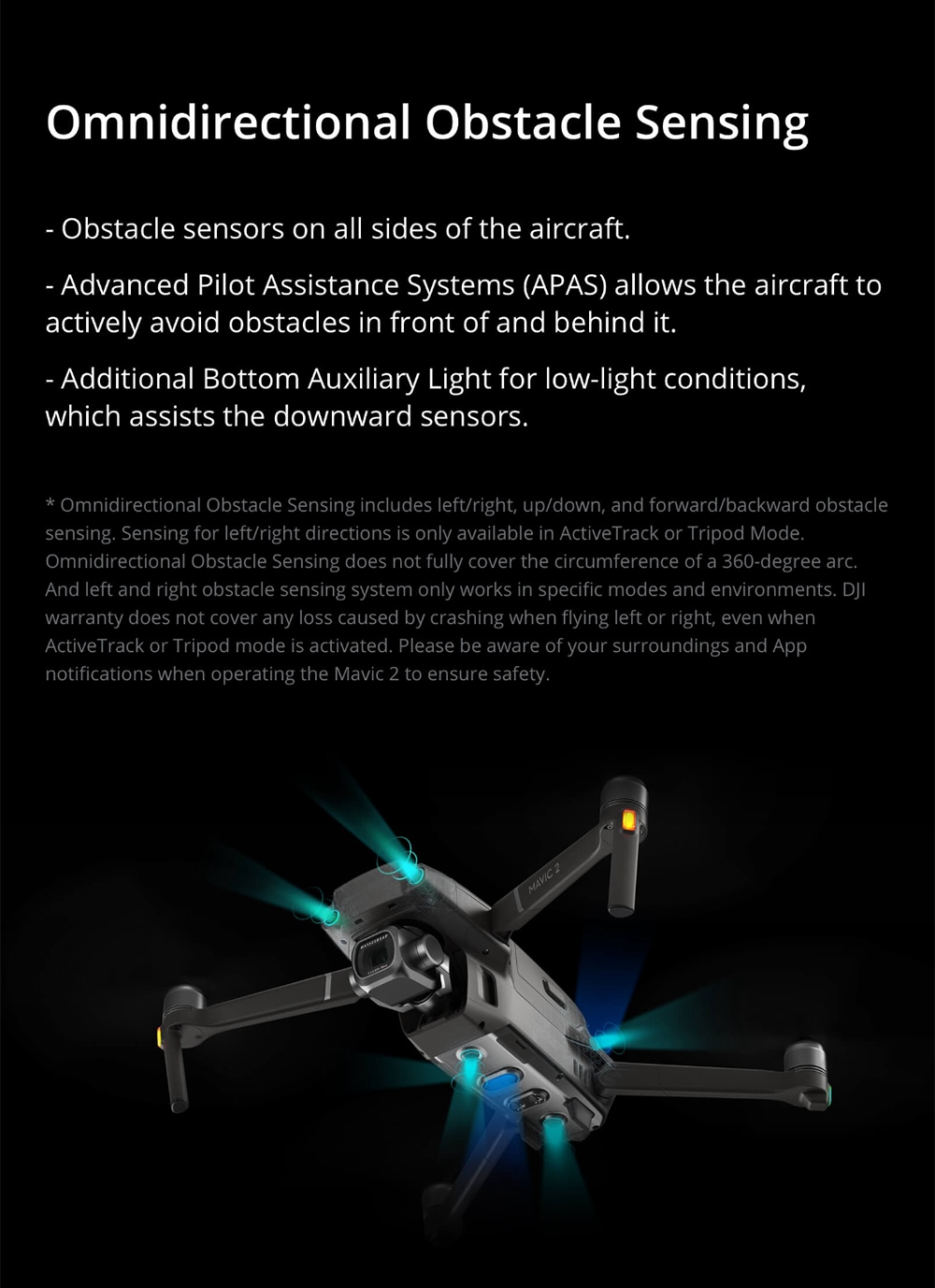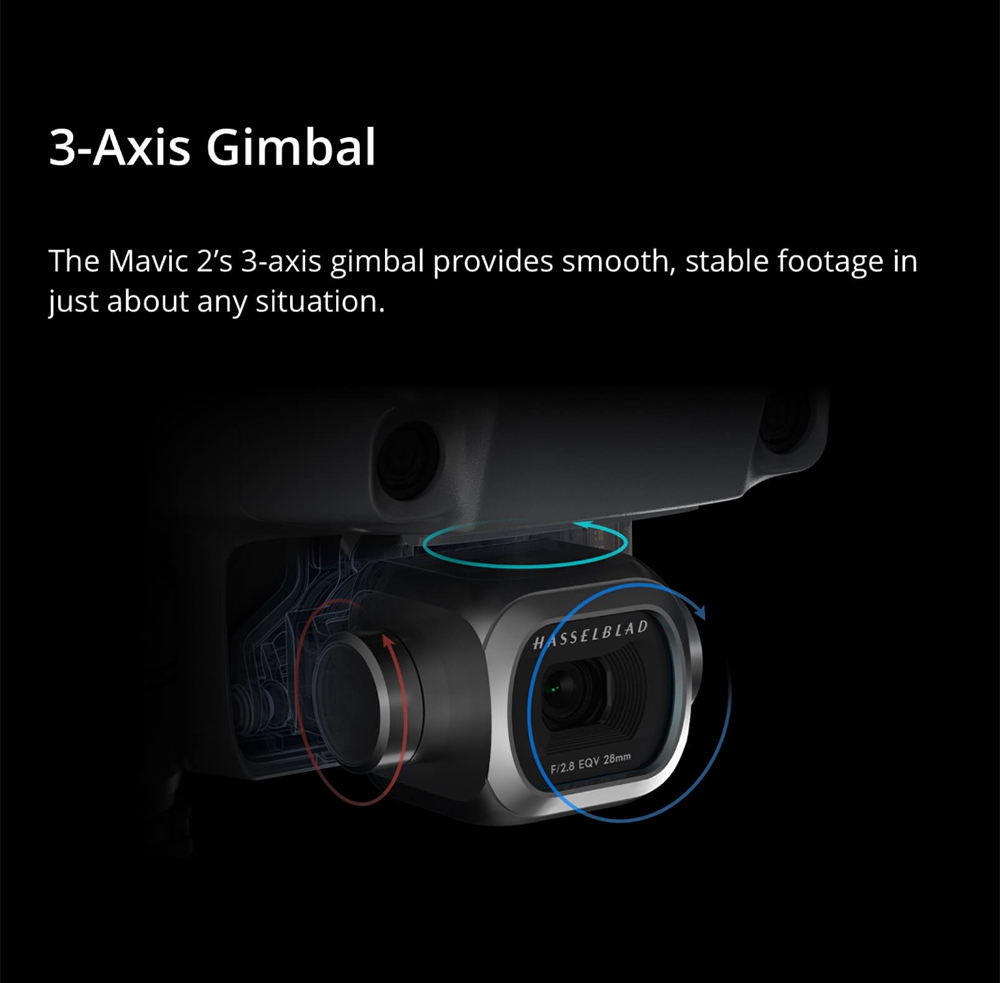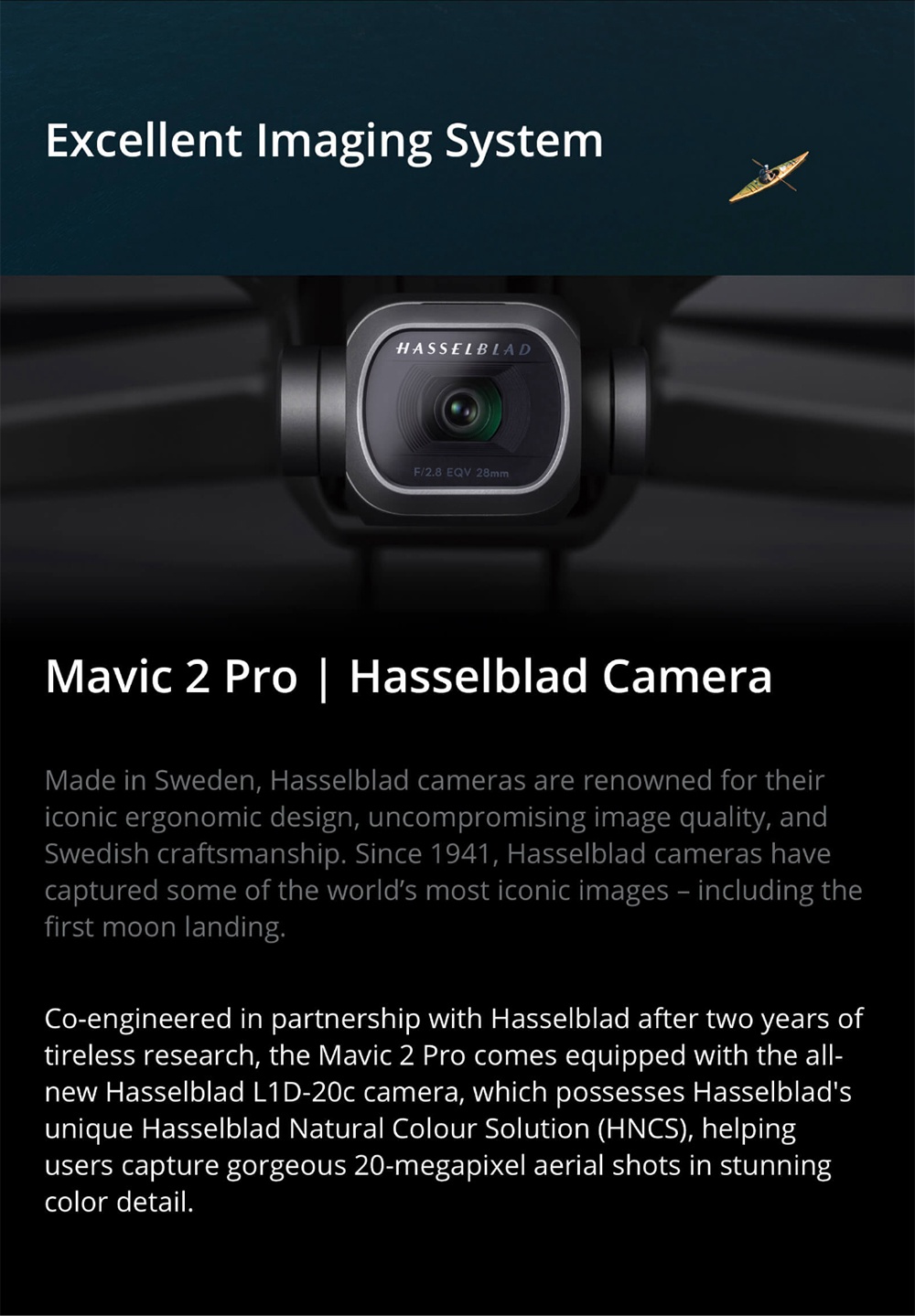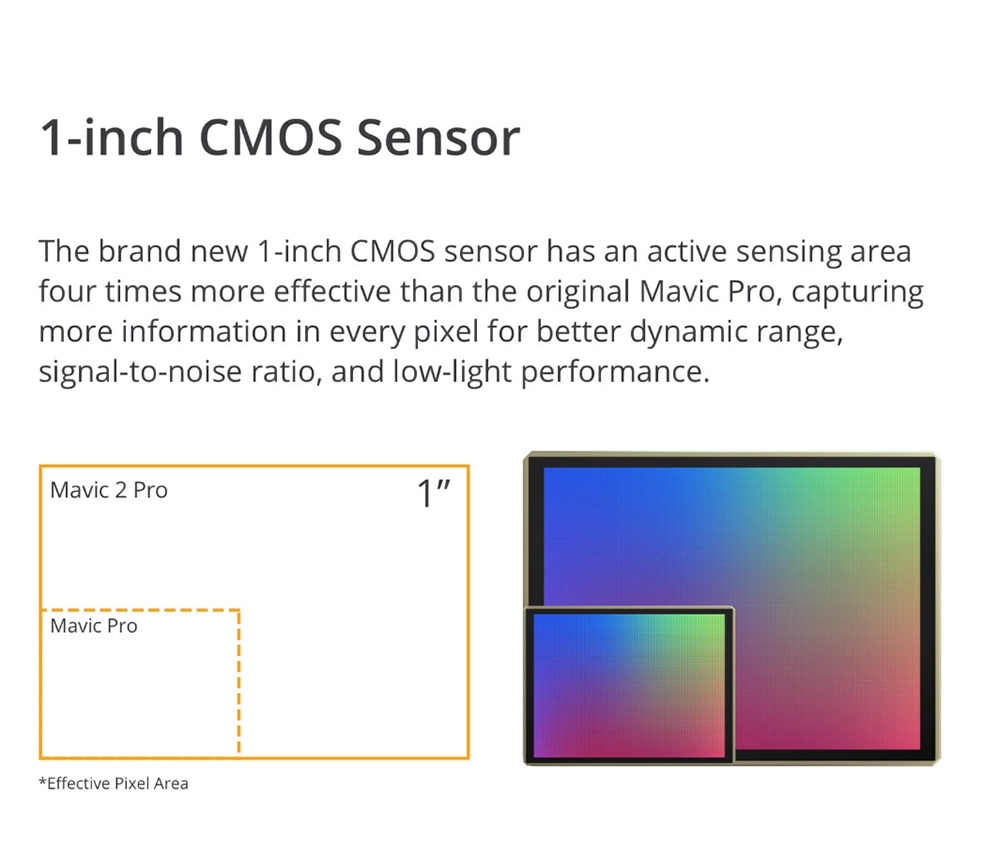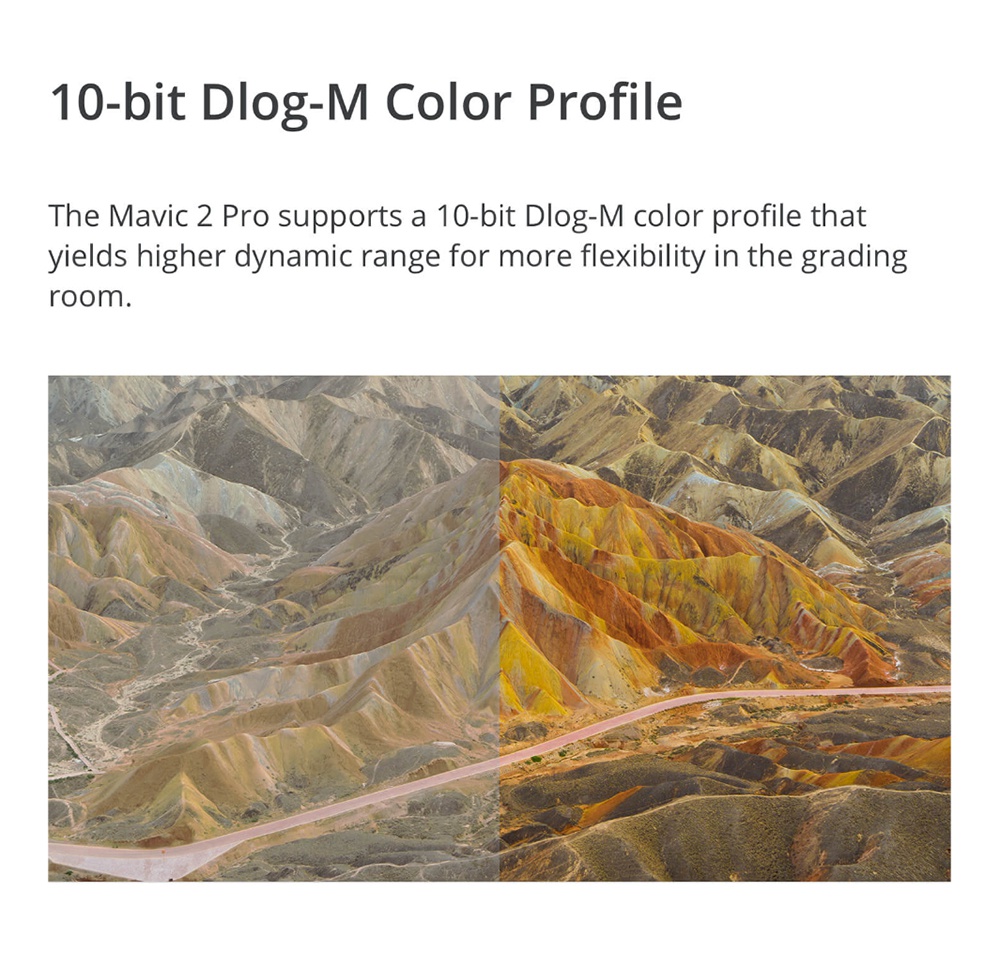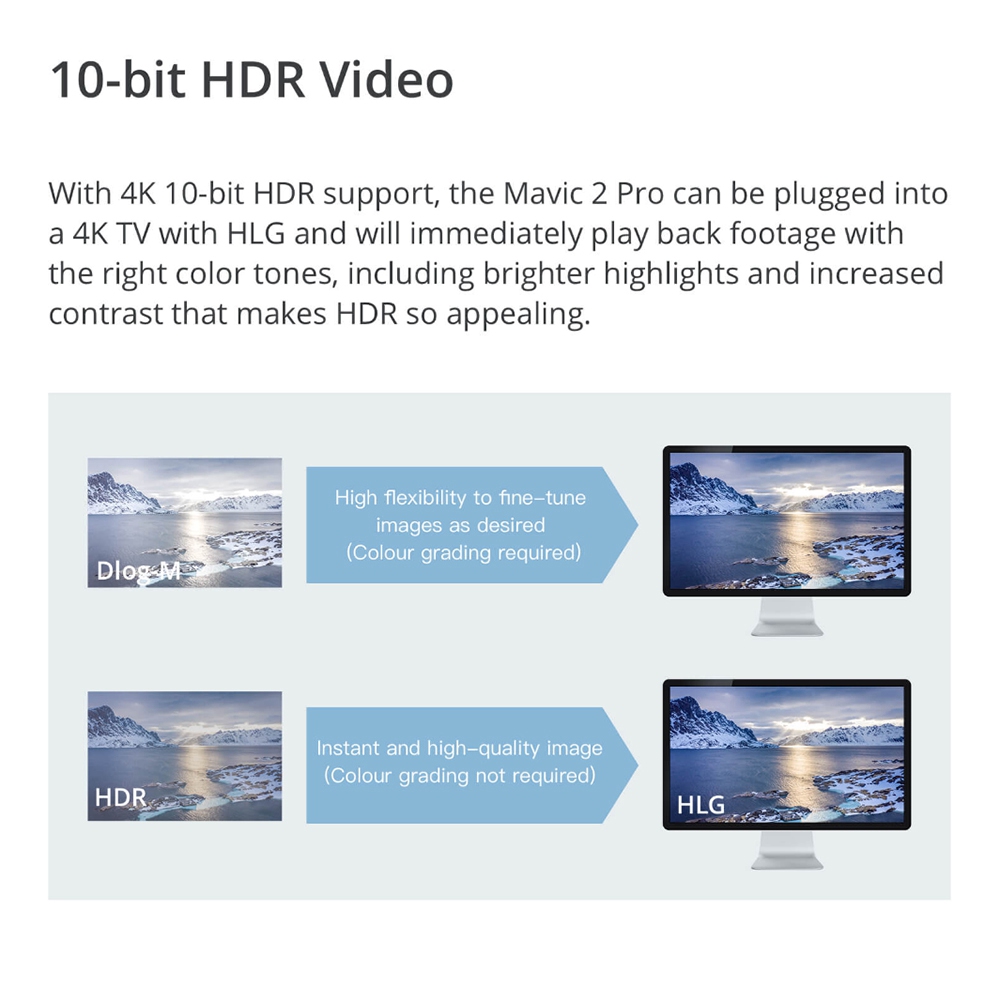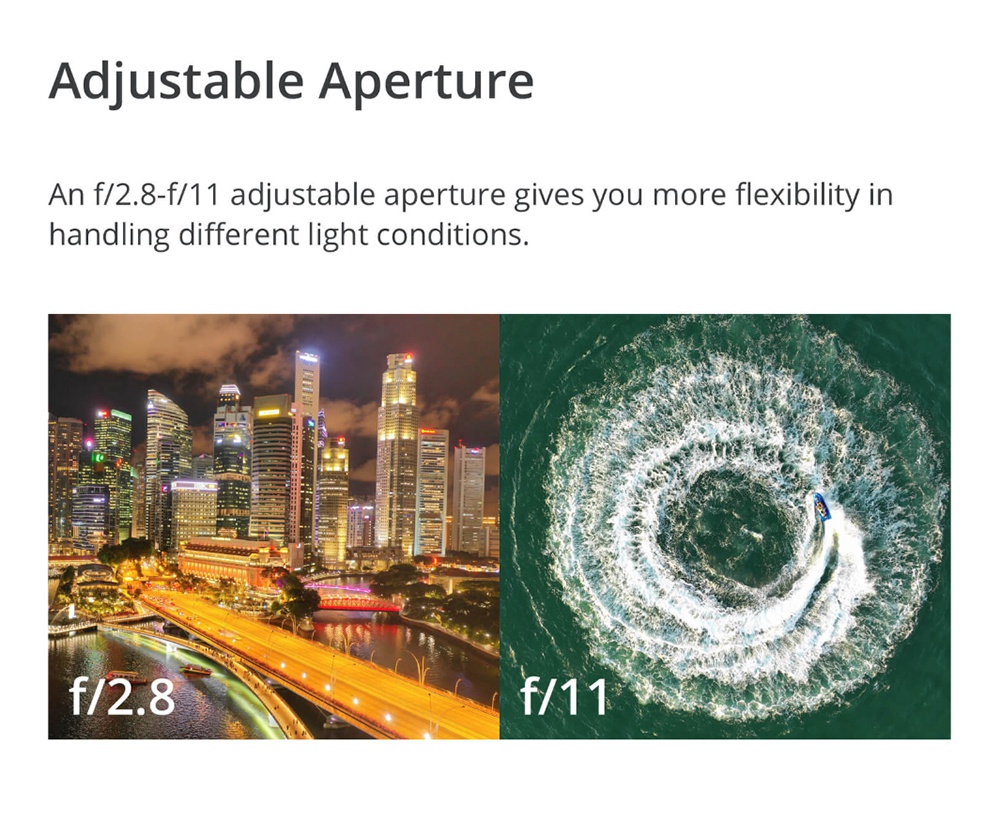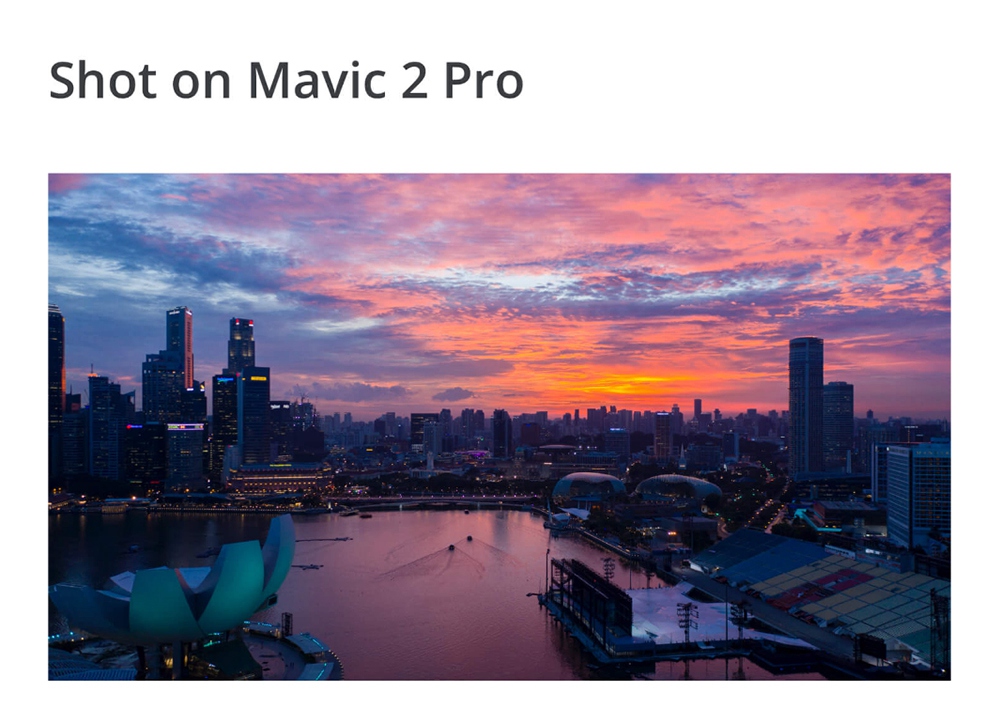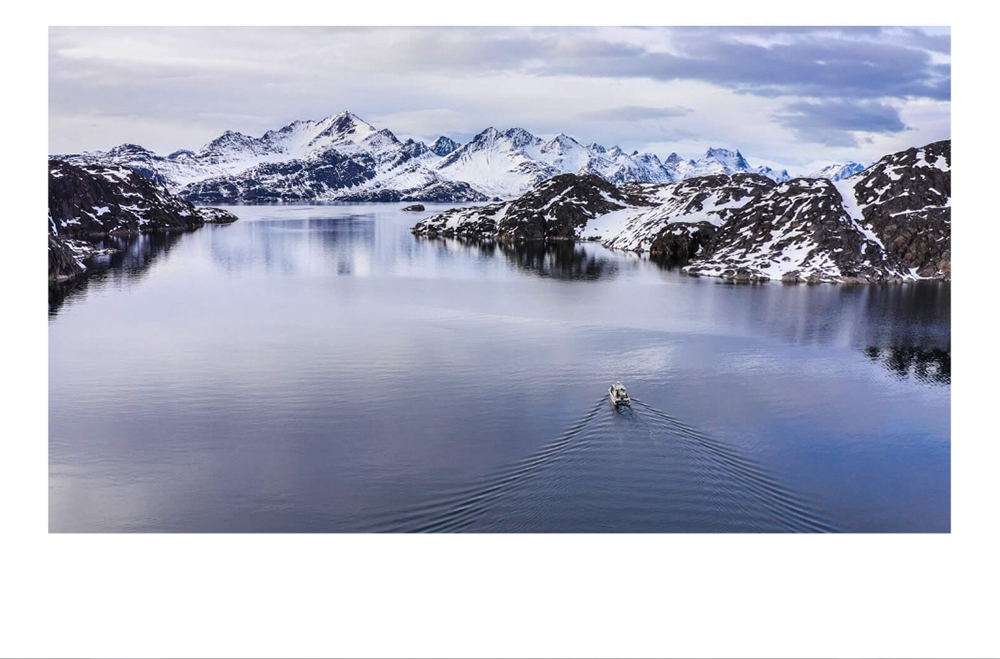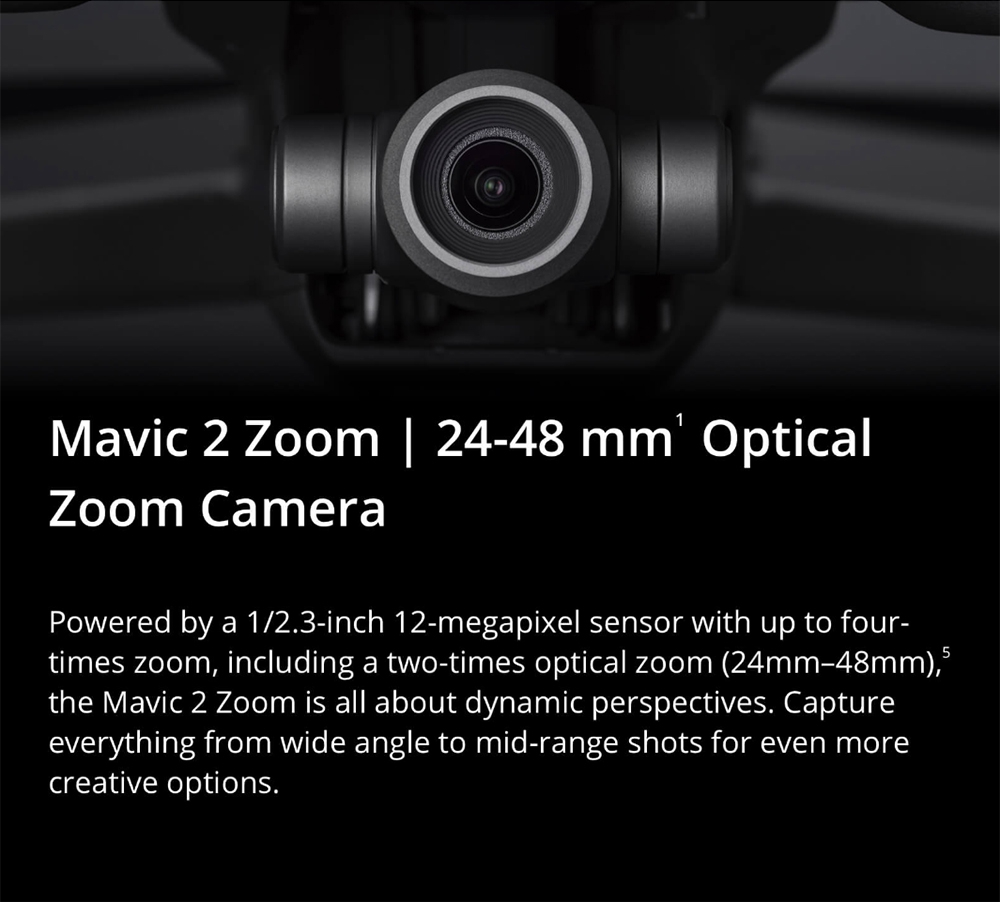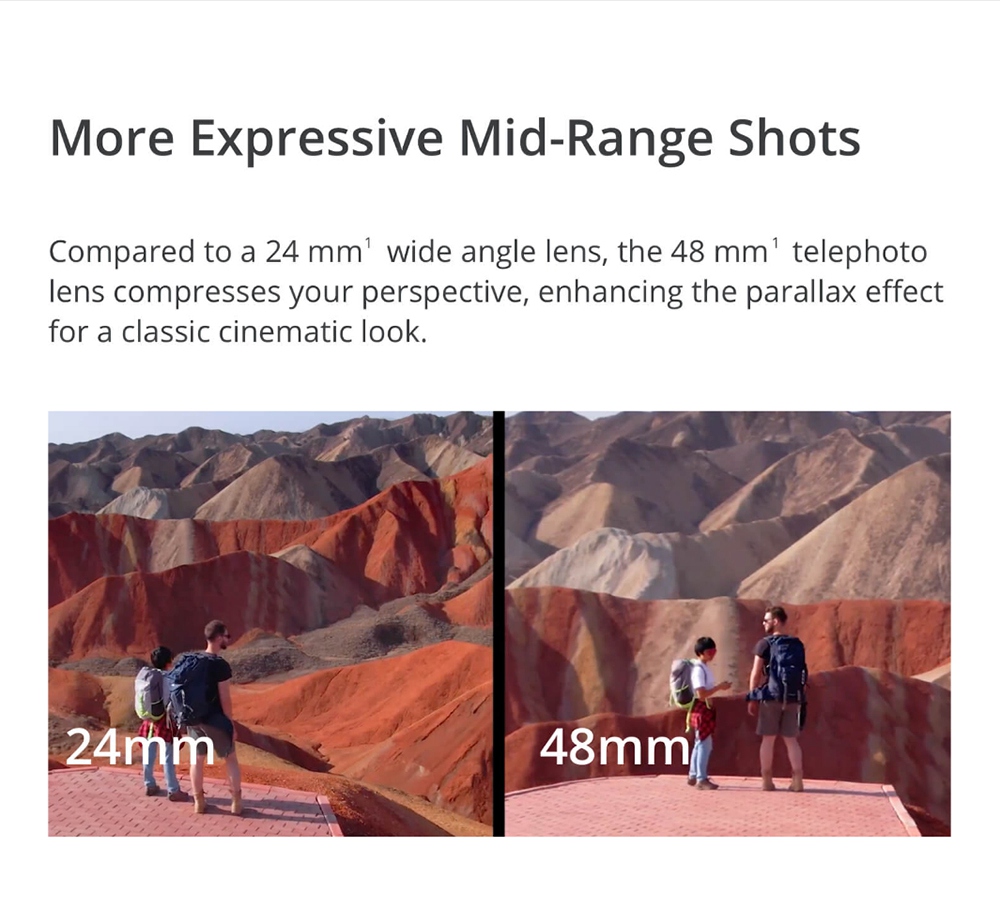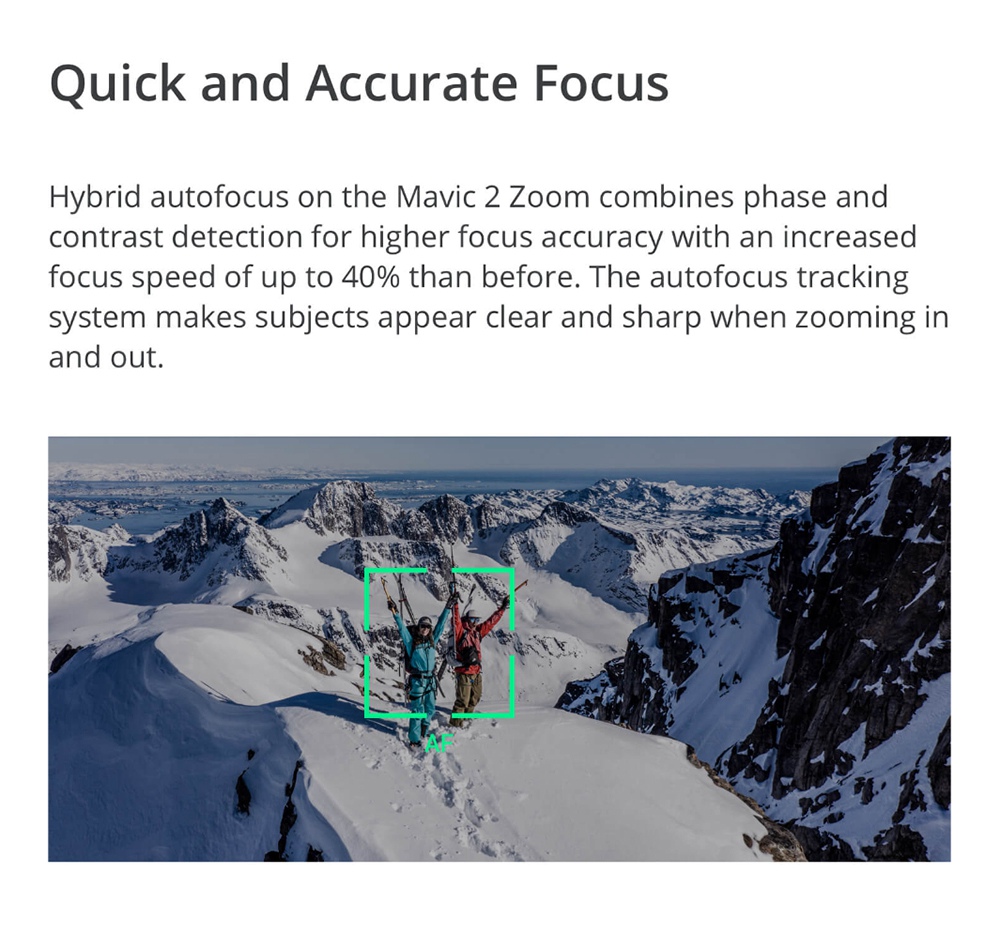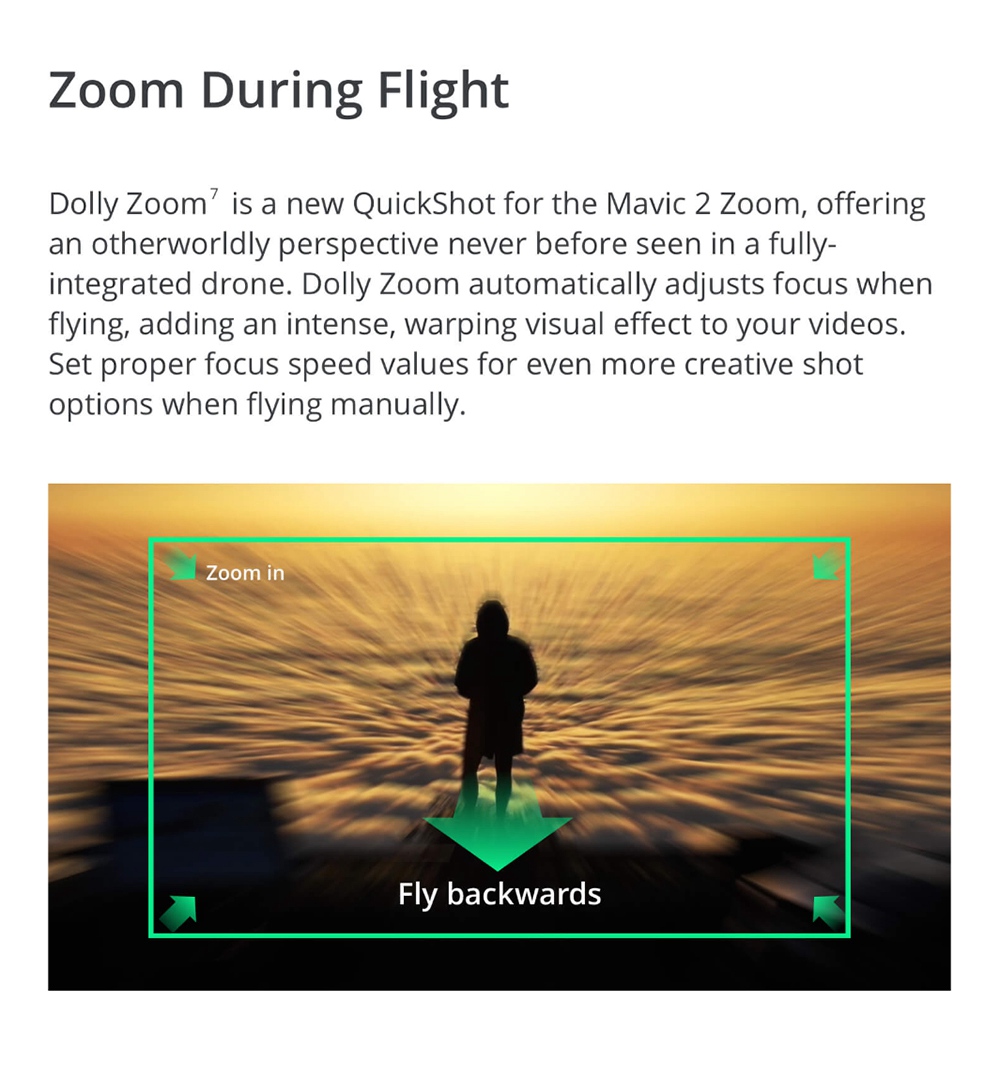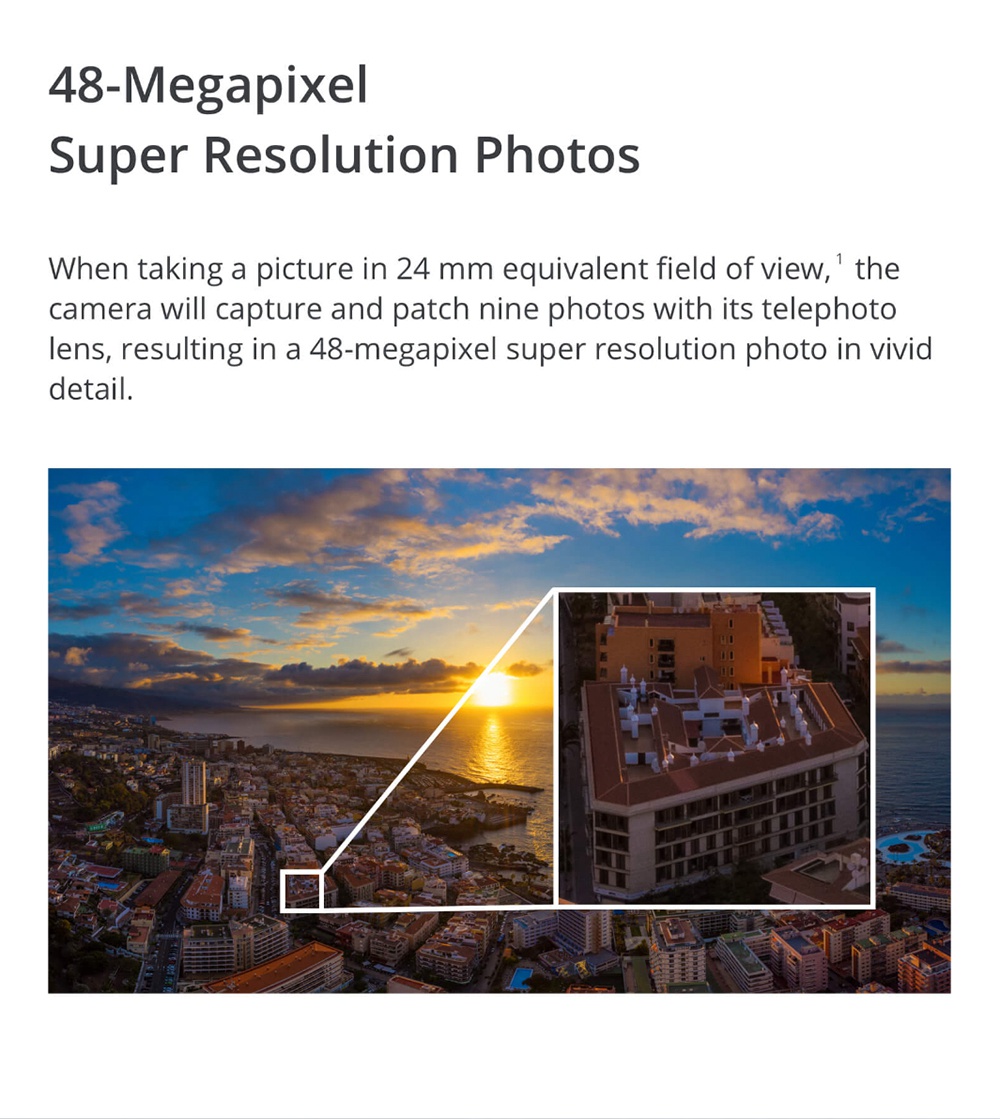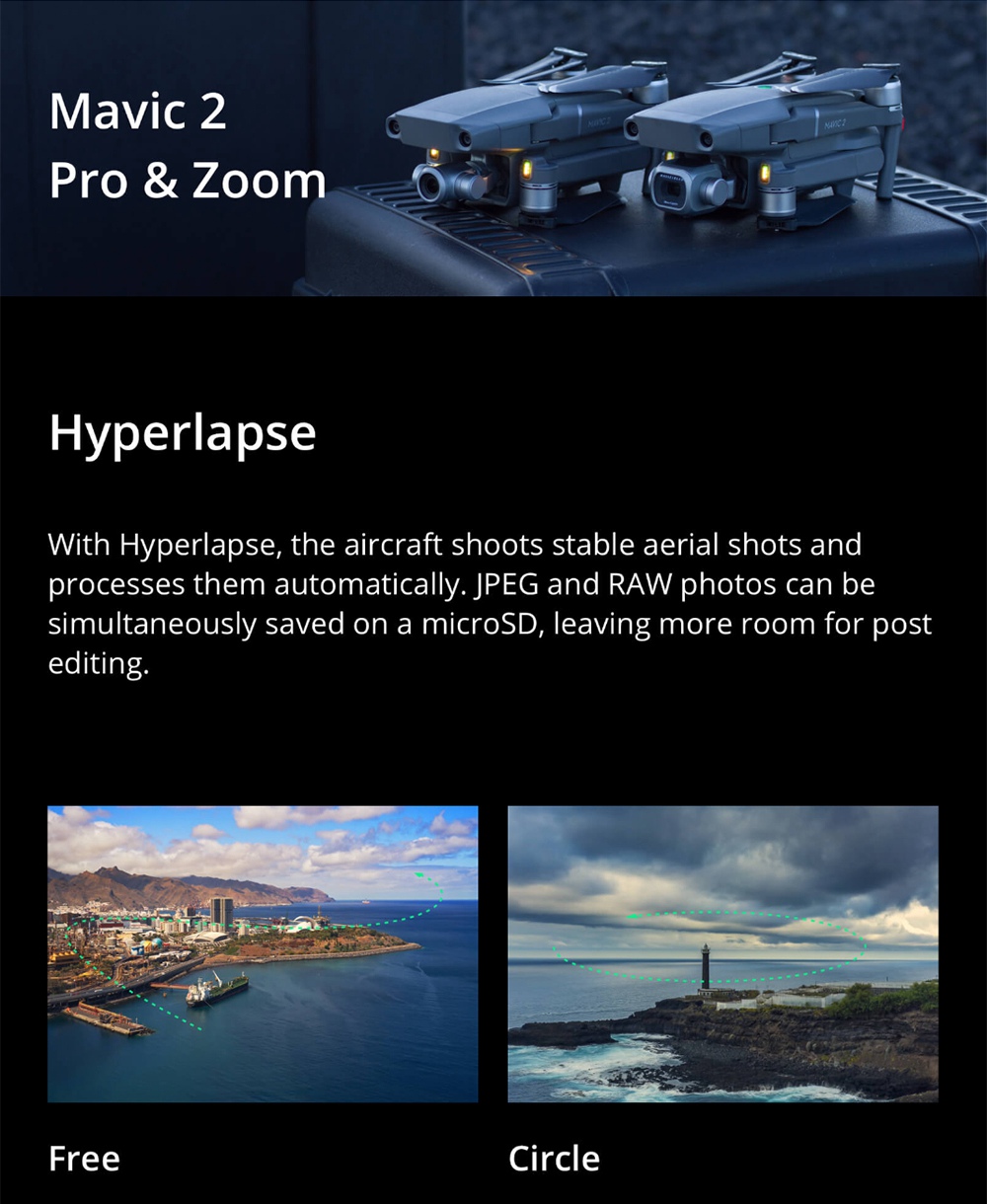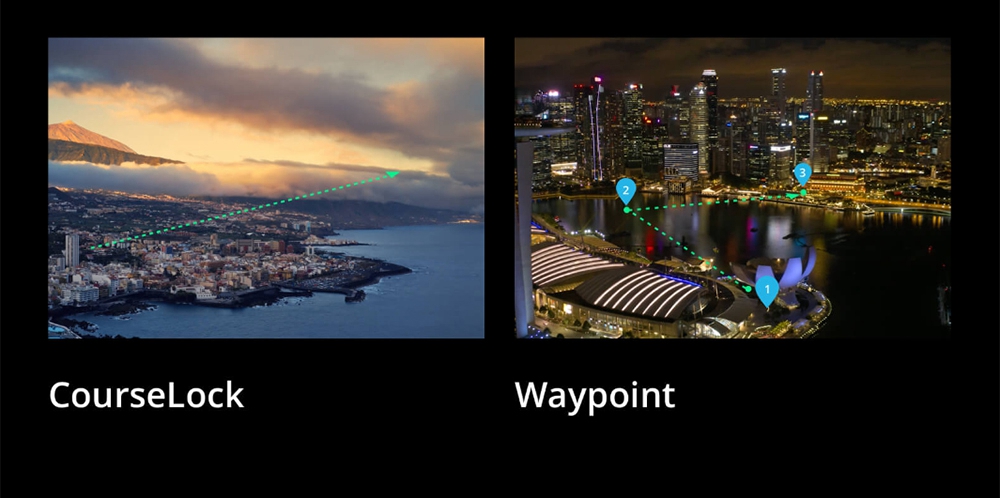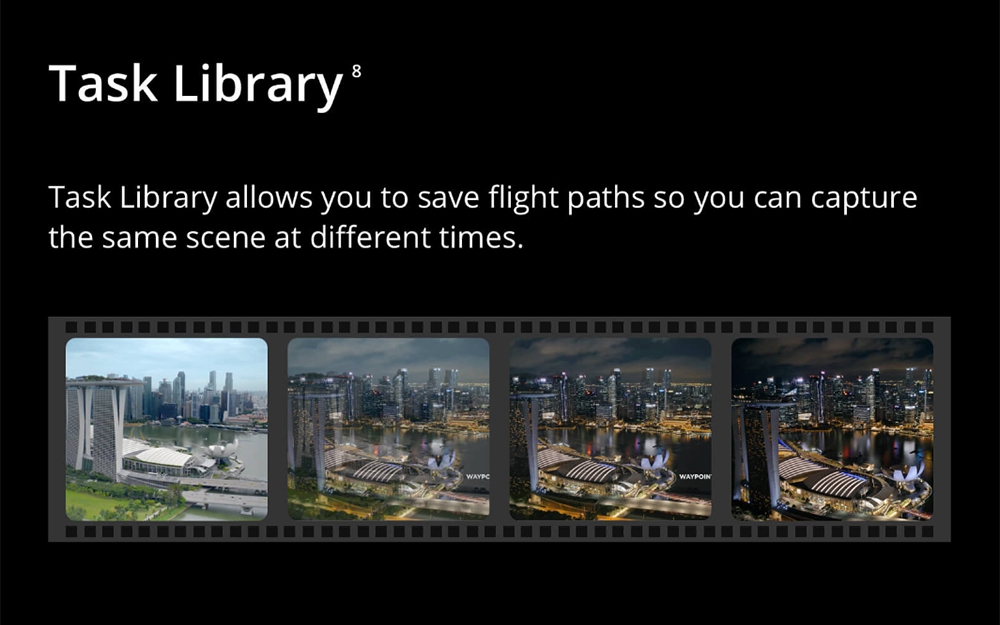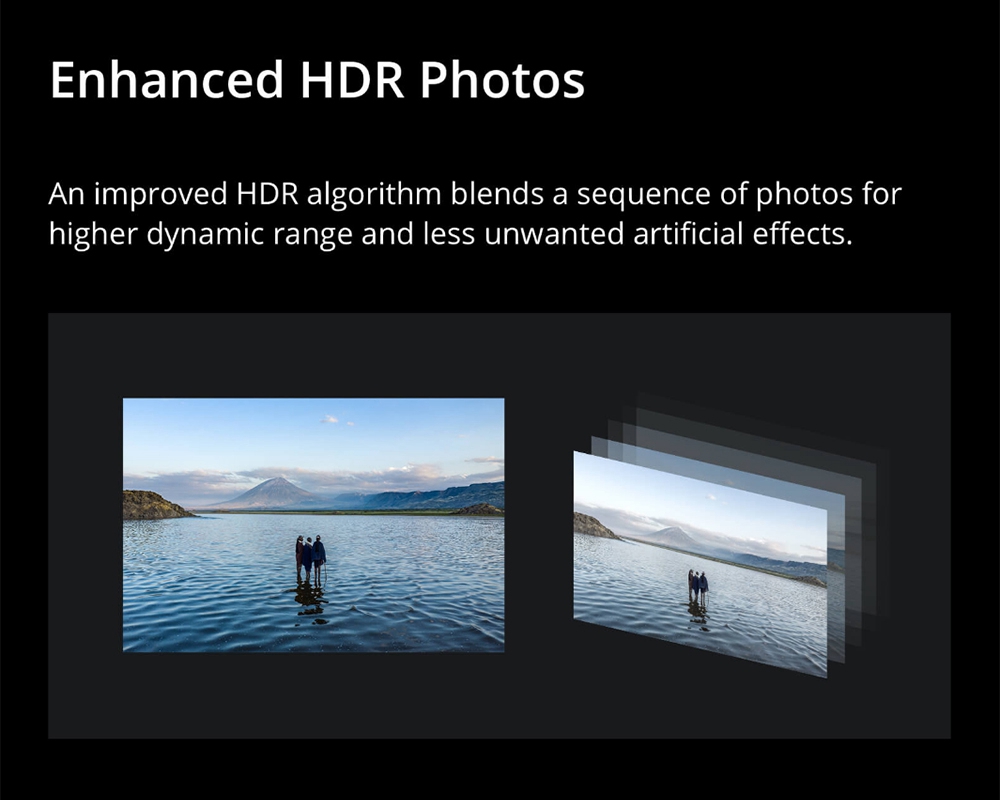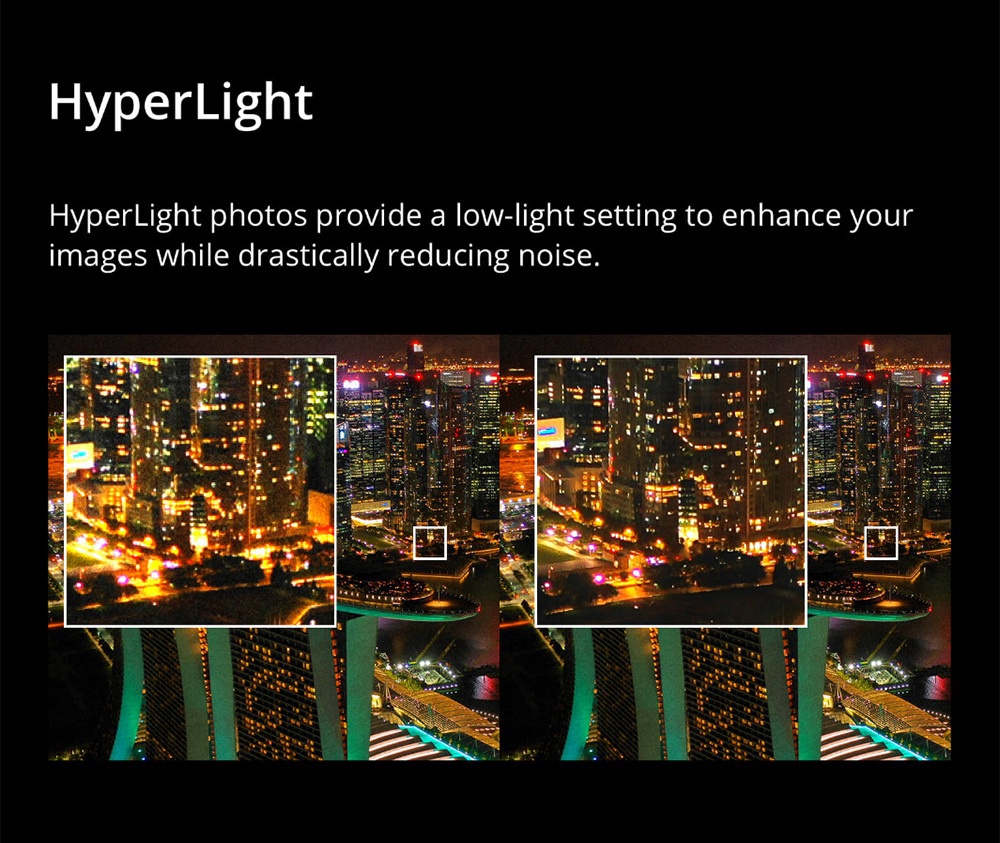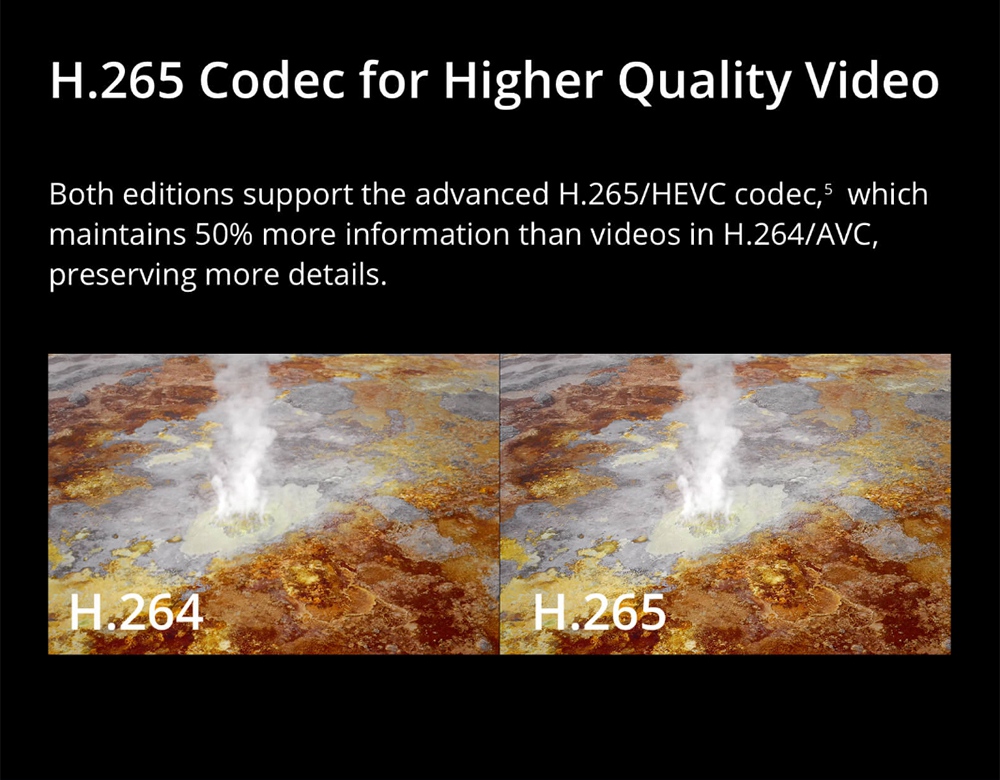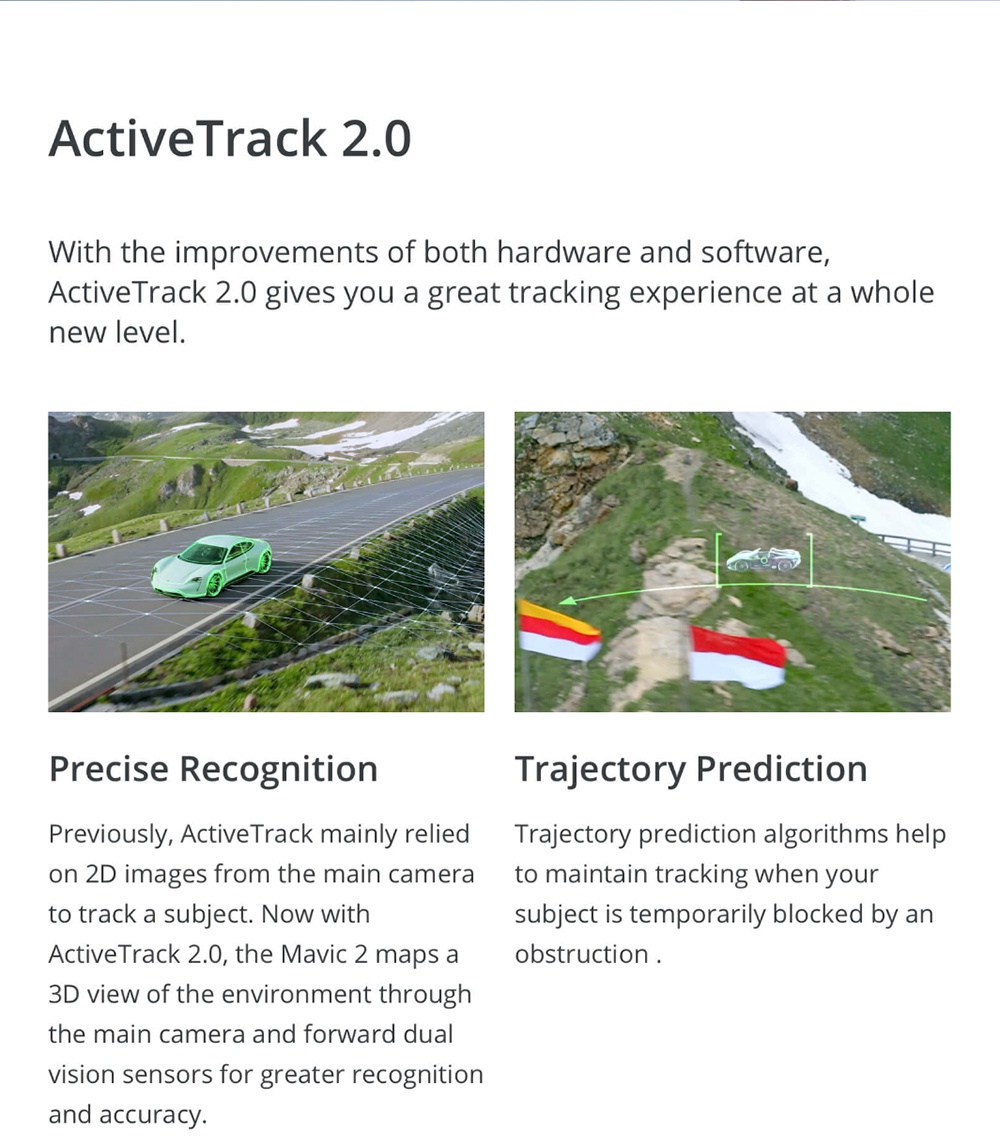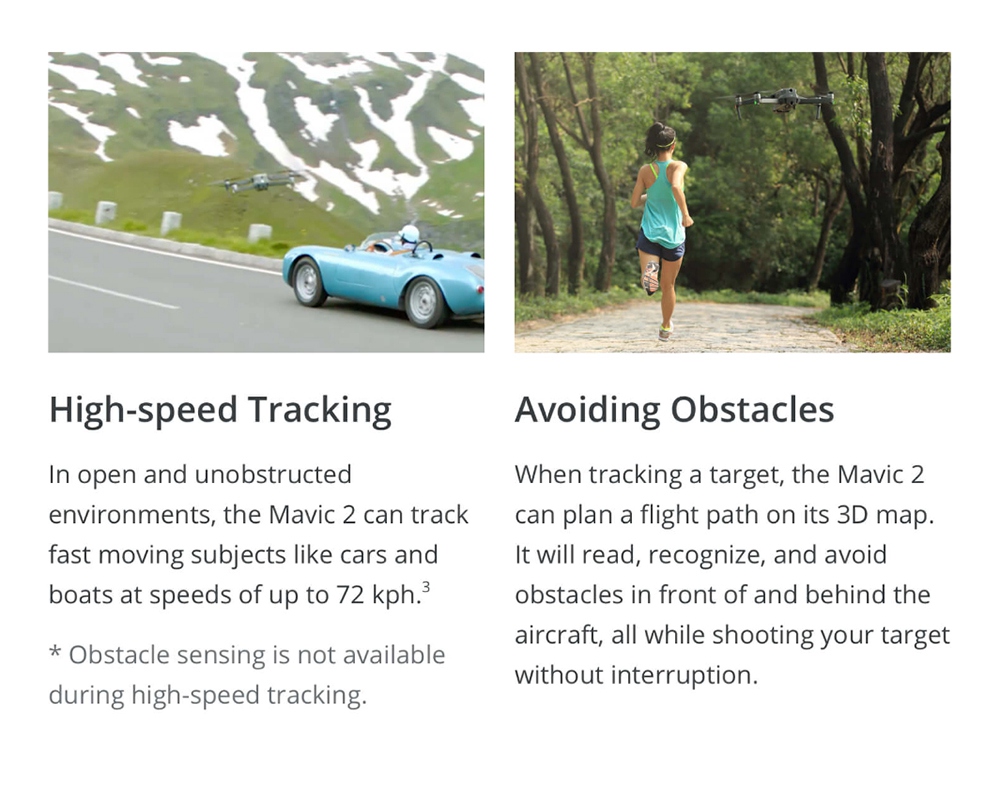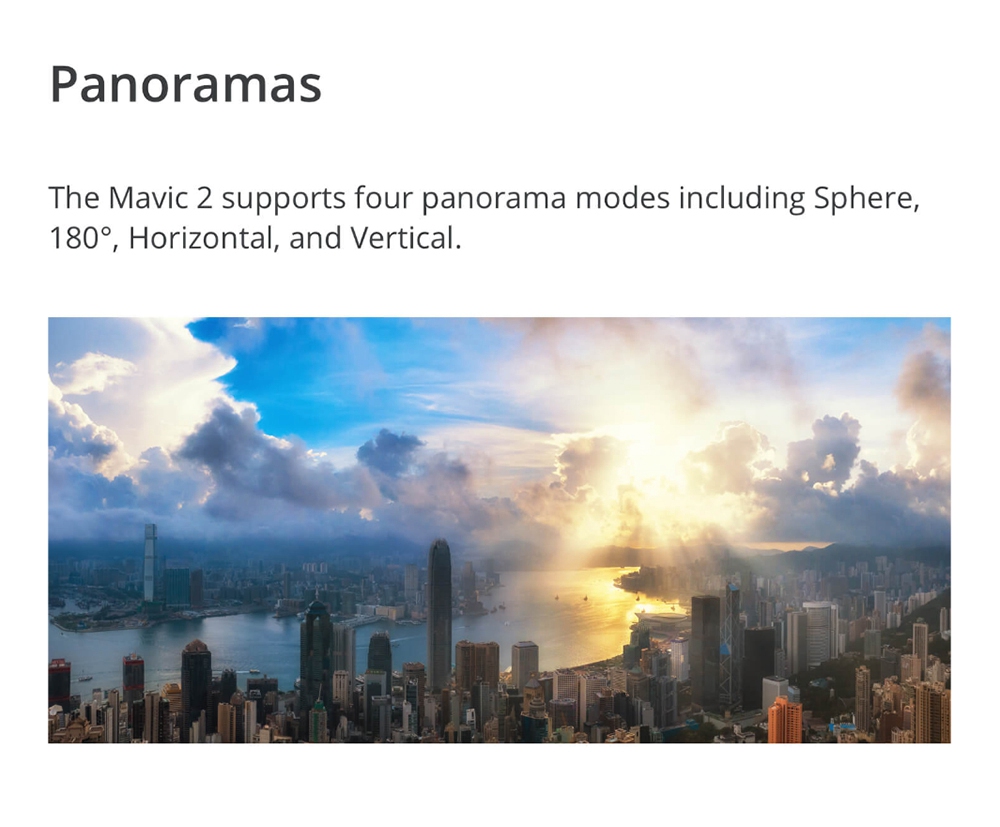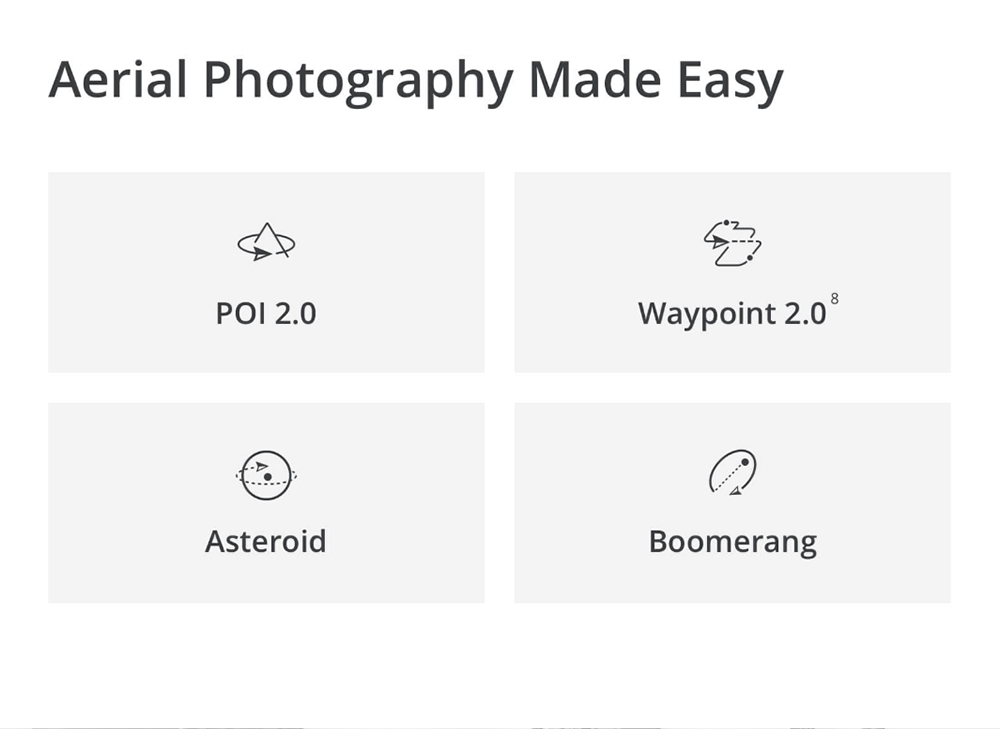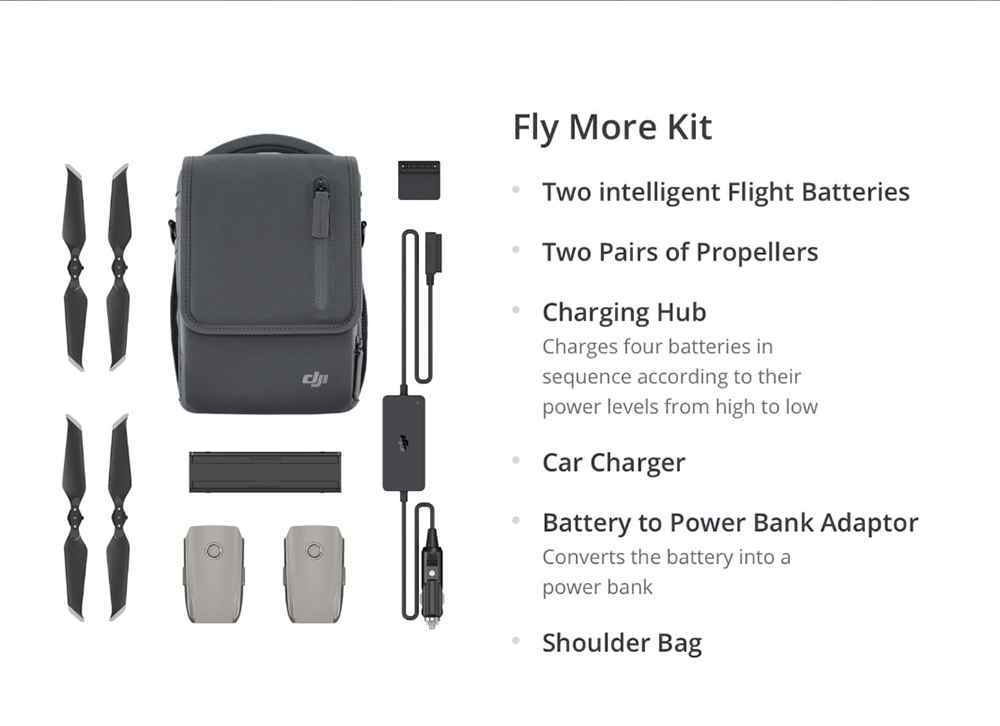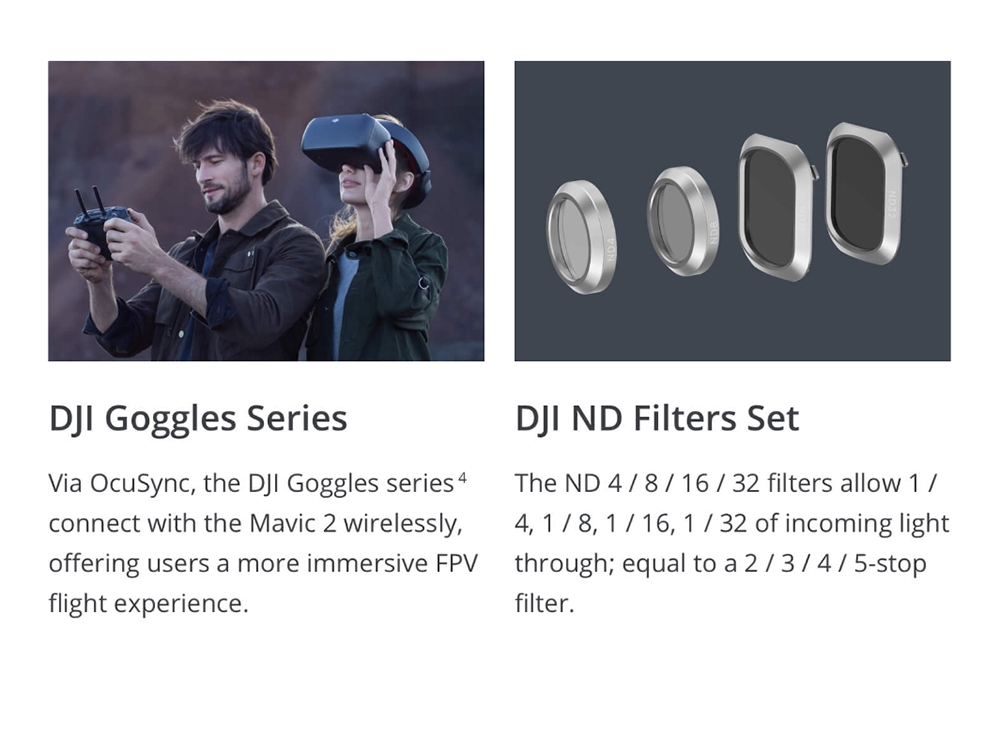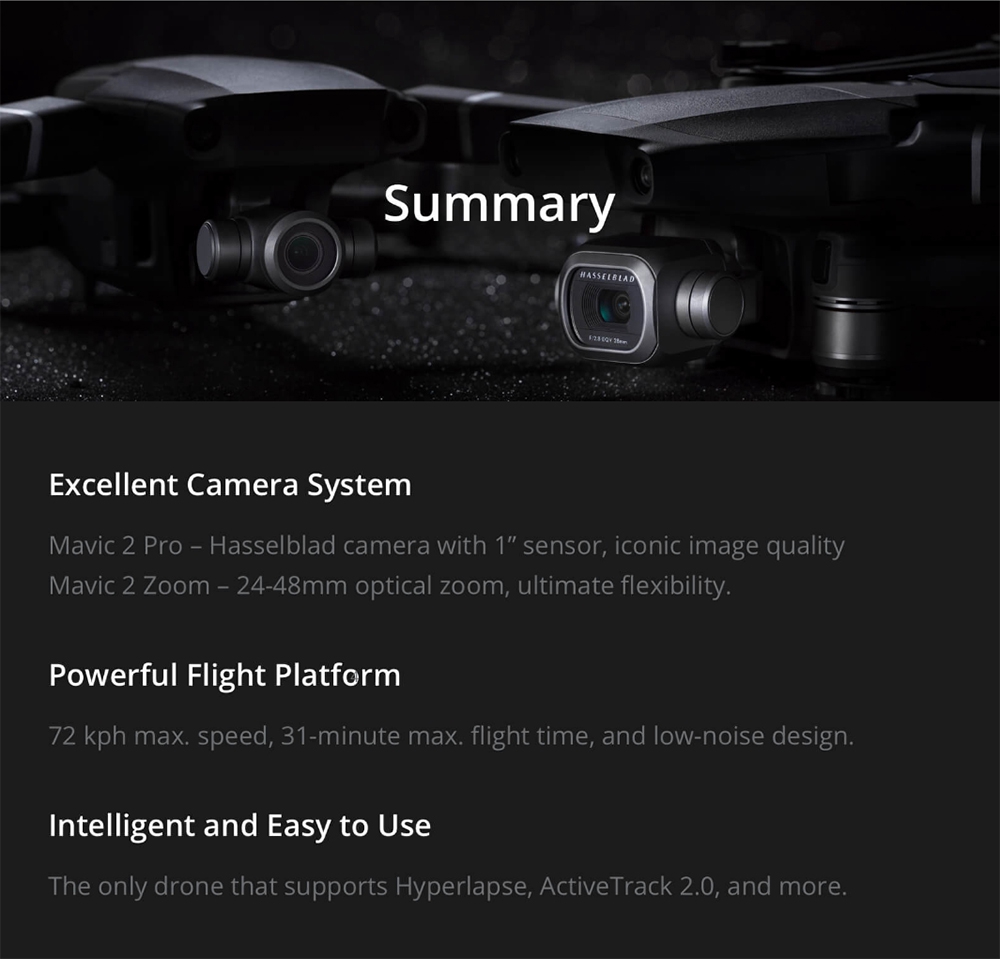 Specification
General

AIRCRAFT
Takeoff Weight: 907g
Dimensions
Folded: 214 x 91 x 84 mm (length x width x height)
Unfolded: 322 x 242 x 84 mm (length x width x height)
Diagonal Distance: 354 mm
Max Ascent Speed: 5 m/s (S-mode)
4 m/s (P-mode)
Max Descent Speed: 3 m/s (S-mode)
3 m/s (P-mode)
Max Speed (near sea level, no wind): 72 kph (S-mode)
Max Service Ceiling Above Sea Level: 6000 m
Max Flight Time (no wind): 31 minutes (at a consistent 25 kph)
Max Hovering Time (no wind): 29 minutes
Max Flight Distance (no wind): 18 km (at a consistent 50 kph)
Max Wind Speed Resistance: 29–38 kph
Max Tilt Angle: 35°(S-mode, with remote controller) 25° (P-mode)
Max Angular Velocity: 200°/s
Operating Temperature Range: -10°C - 40°C
Operating Frequency: 2.400 - 2.483 GHz
5.725 - 5.850 GHz
Transmission Power (EIRP): 2.400 - 2.483 GHz
FCC: ≤26 dBm
CE: ≤20 dBm
SRRC: ≤20 dBm
MIC: ≤20 dBm
5.725-5.850 GHz
FCC: ≤26 dBm
CE: ≤14 dBm
SRRC: ≤26 dBm
GNSS: GPS+GLONASS
Hovering Accuracy Range Vertical:
± 0.1 m (when vision positioning is active)
± 0.5 m (with GPS positioning)
Horizontal:
± 0.3 m (when vision positioning is active)
± 1.5 m (with GPS positioning)
Internal Storage: 8GB

CAMERA
Sensor: 1" CMOS
Effective Pixels: 20 million
Lens
FOV: about 77°
35 mm Format Equivalent: 28 mm
Aperture: f/2.8–f/11
Shooting Range: 1 m to ∞
ISO Range:
Video: 100-6400
Photo: 100-3200 (auto)
100-12800 (manual)
Shutter Speed
Electronic Shutter: 8–1/8000s
Still Image Size: 5472 x 3648
Still Photography Modes Single shot
Burst shooting: 3/5 frames
Auto Exposure Bracketing (AEB): 3/5 bracketed frames at 0.7 EV Bias
Interval (JPEG: 2/3/5/7/10/15/20/30/60s RAW: 5/7/10/15/20/30/60s)
Video Resolution 4K: 3840 x 2160 24/25/30p
2.7K: 2688 x 1512 24/25/30/48/50/60p
FHD: 1920 x 1080 24/25/30/48/50/60/120p
Max Video Bitrate: 100Mbps
Color Mode: Dlog-M (10bit), support HDR video (HLG 10bit)
Supported File System: FAT32 (≤ 32 GB)
exFAT (> 32 GB)
Photo Format: JPEG / DNG (RAW)
Video Format: MP4 / MOV (MPEG-4 AVC/H.264, HEVC/H.265)

GIMBAL
Mechanical Range Tilt: -135–45°
Pan: -100–100°
Controllable Range Tilt: -90–30°
Pan: -75–75°
Stabilization: 3-axis (tilt, roll, pan)
Max Control Speed (tilt): 120° /s
Angular Vibration Range: ±0.01°

REMOTE CONTROLLER
Operating Frequency: 2.400 - 2.483 GHz; 5.725 - 5.850 GHz
Max Transmission Distance (unobstructed, free of interference)
2.400 - 2.483 GHz; 5.725 - 5.850 GHz
FCC: 8000 m
CE: 5000 m
SRRC: 5000 m
MIC: 5000 m
Operating Temperature Range: 0°C - 40°C
Transmission Power (EIRP): 2.400 - 2.483 GHz
FCC: ≤26 dBm
CE: ≤20 dBm
SRRC: ≤20 dBm
MIC: ≤20 dBm
5.725-5.850 GHz
FCC: ≤26 dBm
CE: ≤14 dBm
SRRC: ≤26 dBm
Battery: 3950 mAh
Operating Current/Voltage: 1800 mA = 3.83 V
Supported Mobile Device Size: Max length: 160 mm; max thickness: 6.5–8.5 mm
Supported USB Port Types: Lightning, Micro USB (Type-B), USB-C

INTELLIGENT FLIGHT BATTERY
Capacity: 3850 mAh
Voltage: 15.4 V
Max Charging Voltage: 17.6 V
Battery Type: LiPo 4S
Energy: 59.29 Wh
Net Weight: 297 g
Charging Temperature Range: 5°C - 40°C
Max Charging Power: 80W

CHARGER
Input: 100-240 V, 50/60 Hz, 1.8A
Output: Main: 17.6 V=3.41 A
or 17.0 V=3.53 A
USB: 5 V=2 A
Voltage: 17.6 ± 0.1 V
Rated Power: 60W

SENSING SYSTEM
Sensing System: Omnidirectional Obstacle Sensing1
Forward
Precision Measurement Range: 0.5 - 20 m
Detectable Range: 20 - 40 m
Effective Sensing Speed: ≤ 14m/s
FOV: Horizontal: 40°, Vertical: 70°
Backward
Precision Measurement Range: 0.5 - 16 m
Detectable Range: 16 - 32 m
Effective Sensing Speed: ≤ 12m/s
FOV: Horizontal: 60°, Vertical: 77°
Upward Precision Measurement Range: 0.1 - 8 m
Downward
Precision Measurement Range: 0.5 - 11 m
Detectable Range: 11 - 22 m
Sides
Precision Measurement Range: 0.5 - 10 m
Effective Sensing Speed: ≤ 8m/s
FOV: Horizontal: 80°, Vertical: 65°
Operating Environment
Forward, Backward and Sides:
Surface with clear pattern and adequate lighting (lux > 15)
Upward:
Detects diffuse reflective surfaces (>20%) (walls, trees, people, etc.)
Downward:
Surface with clear pattern and adequate lighting (lux > 15)
Detects diffuse reflective surfaces (>20%) (walls, trees, people, etc.)

SUPPORTED SD CARDS
Supported SD Cards: Micro SD
Supporting Micro SD with capacity up to 128 GB and R/W speed up to UHS-I Speed Grade 3

APP
Video Transmission System: OcuSync 2.0
Name: DJI GO 4
Live View Quality
Remote Controller: 720p@30fps / 1080p@30fps
DJI Goggles: 720p@30fps / 1080p@30fps
DJI Goggles RE: 720p@30fps / 1080p@30fps
Latency (depending on environmental conditions and mobile device): 120 - 130 ms
Max Live View Bitrate: 40Mbps
Required Operating System: iOS 9.0 or later Android 4.4 or later

Package Contents

1 x Aircraft
1 x Remote Controller
1 x Intelligent Flight Battery
1 x Charger
1 x Power Cable
3 x Propellers(Pair)
1 x RC Cable(Lightning Connector)
1 x RC Cable(Stabdard Micro USB Connetor)
1 x RC Cable(USB Type-C Connetor)
1 x Gimbal Protector
1 x Communication Cable(USB3.0 Type-C)
1 x USB Adapter
1 x RC Cable Slider(Large)
2 x RC Cable Slider(Small)
1 x Spare Control Sticks(Pair)
| | | |
| --- | --- | --- |
| 5 star | | 0 |
| 4 star | | 0 |
| 3 star | | 0 |
| 2 star | | 0 |
| 1 star | | 0 |
All (

0

)
Images (

0

)
Videos (

0

)